Haydel Spine Pain & Wellness is a member of the National Osteoporosis Foundation's Professional Partners Network®
Osteoporosis is a severe bone disease, which progresses without symptoms or pain and results in fractures that heal very slowly and can cause chronic pain, frailty, deformity and even possible death.
Haydel Spine Pain & Wellness is proud to offer you cutting-edge detection and defense against osteoporosis through our new Osteoporosis Clinic.
If you've been diagnosed with osteoporosis or your doctor thinks you may have osteoporosis, you will want the best and highest quality care available. Here at the Osteoporosis Clinic at Haydel Spine Pain & Wellness, quality care is just what we provide! An all-inclusive, innovative care for the health of your bones, starting with prevention to diagnosis to, most importantly, treatment.
The Osteoporosis Clinic at Haydel Spine Pain & Wellness offers assessment, diagnosis, education, and treatment to help achieve ideal bone health through a multitude of therapeutic options, and through the use of advanced screening tools like the DEXA scan, we can help predict your likelihood for developing osteoporosis over the coming years. As part of your evaluation you can expect:
Comprehensive assessments of your total-body health – We evaluate your current bone health and your risk for future bone fracture. We also define and address any underlying causes of osteoporosis to ensure that you receive the most effective treatment results
Blood work to look for nutritional or hormonal deficiencies – We test to help identify if you have another medical condition that is causing bone loss.
Review of your risk factors and tools to change them – We believe it's never too late to improve your bone health. We will help you understand osteoporosis and educate you to prevent further bone loss and build stronger, healthier bones
Development of a personalized treatment plan – We develop a care and treatment tactic that's right for you based on your unique risk profile, lifestyle, health and family history, examination results and more
Based on your laboratory and testing results, we will work with your regular doctor or specialists as needed to correct any nutritional or hormonal deficiencies that could raise your risk for osteoporosis. Do you know your risk?
We accept self-referrals & all major insurances. Please contact us today at (985) 223-3132 to schedule your appointment.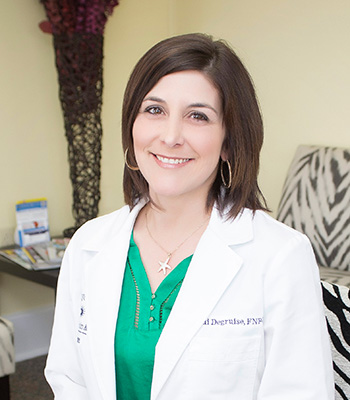 Brandi B. Degruise, FNP-C
Wellness/Osteoporosis Clinic
Bachelor of Science in Nursing from University of Louisiana at Monroe 2001
Master of Science in Nursing from University of South Alabama 2006
Certified by American Academy of Nurse Practitioners as a Family Nurse Practitioner