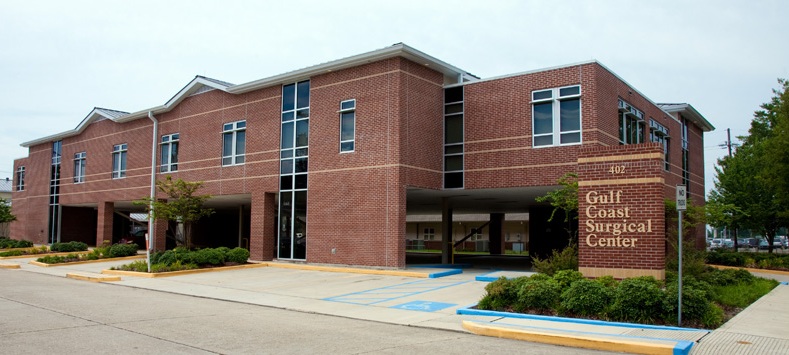 If your treatment includes a procedure, relax! You will be in good hands thanks to the state-of-the-art surgery center conveniently located adjacent to Haydel Spine & Pain Center. This amazing facility allows us to provide you with the most comprehensive medical and surgical care available, not to mention the most convenient!
Gulf Coast Surgical Center is dedicated to providing excellence in ambulatory surgical care to patients. Located at 402 Dunn Street in Houma, the Surgery Center offers advanced state-of-the-art technology and an experienced, friendly staff. We specialize in outpatient procedures that utilize the latest minimally-invasive techniques and procedures. Our goal is to provide a safe and relaxed medical experience while allowing you to return to the comfort of your own home that same day.
About Gulf Coast Surgical Center
At Gulf Coast Surgical Center, you will find excellent surgery treatment options available in Southeast Louisiana. The medical professionals at Gulf Coast Surgical Center are dedicated to the health and well being of their patients and put the quality care of the patient first.
While family or friends are waiting, they are welcomed to take advantage of our beautiful and comfortable lobby area equipped with television. Wireless internet connection is also offered for your convenience.
Pre-operative Tests
Depending on your procedure and medical history, testing may be required prior to your procedure dependent upon your physician's orders. It is important that the testing be completed in a timely manner. When talking with your pre-admission nurse, they will assist with the necessary paperwork and schedule you for any required pre-operative testing within the surgery center for your convenience.
Arranging for a Ride Home
Please arrange for a responsible person to take you home and stay with you for the 24 hours following your procedure. Your procedure will be canceled if you cannot arrange a ride home. If you receive anesthesia/sedation, you cannot take a taxi home unless you have a responsible person with you.
The Day Before Procedure
Gulf Coast Surgical Center will call you and let you know what time to arrive the next day. If your procedure is on a Monday, they will call the Friday before. If you are diabetic or on home oxygen, please let the staff know so they can accommodate your medical needs.
Eat a light dinner and drink plenty of water throughout the day.
Avoid alcohol, smoking or using tobacco products.
Shower at night or the morning of your procedure with a mild soap or shampoo and be sure to dry skin and hair thoroughly.
The Day of Procedure
Take your blood pressure medicine with a very small sip of water. Take no other medications.
Do not eat or drink anything after midnight the night before your procedure, unless your surgeon or anesthesiologist instructs otherwise. This includes: water, liquids, food, candy, gum, breath mints, and chewing tobacco.
Wear clean, loose, comfortable clothing.
Avoid wearing make-up or nail polish.
Report any body piercings other than the ears.
Please leave jewelry and valuables at home.
Registration
Please check in at the reception desk. Bring the following items with you:
Photo identification, Eyeglasses, glass case, contacts, contact lens case, hearing aids and case, Health insurance card
At the time of your admission, please be prepared to pay your co-insurance, co-payment and/or your deductible.
What to Expect in the Pre-operative Staging Area
A nurse will prepare you for your procedure. Your pre-operative nurse, operating room nurse, anesthesiologist and physician will review your medical records and verify your procedure.
What to Expect in Recovery
After your procedure, you will be transferred to the recovery area until you are ready to go home. The average recovery time is 15-30 minutes dependent upon type and extent of procedure.
Returning Home
You will be given post-operative instructions from your physician relating to your procedure. For your comfort, the Gulf Coast Surgical Center reminds you:
Have a responsible person stay with you for 24 hours following your surgery.
Limit your activities until your physician says you can return to your normal routine.
Keeping your pain under control is important to your well-being. Your physician and anesthesiologist will provide you with a treatment plan in order to speed up your recovery and help you return to your normal routine.
Follow your surgeon's instructions regarding diet, rest, and medication.
Do not drink alcohol, drive a car, make legal decisions, cook, operate power tools or heavy equipment for 24 hours after receiving anesthesia, intravenous sedation or while taking pain medication.
Contact your physician if you feel you are having problems after discharge. If you cannot contact your physician but feel your concerns warrant a doctor's attention, call or report to the nearest emergency room.
If you have questions, contact Gulf Coast Surgical Center at (985) 872-1661
Hours of operation are 6:00 am to 5:00 pm, Monday through Friday.
Billing Information
Gulf Coast Surgical Center is a physician owned facility. Prior to your surgery, Gulf Coast Surgical Center will contact you regarding the patient portion amount. Please be prepared to pay this amount prior to your procedure. For your convenience, we accept cash, personal check, money orders, debit cards, VISA, MasterCard, and American Express.
You will receive a bill for the balance of the services provided by Gulf Coast Surgical Center as well as separate bills from:
the Physician
the Anesthesiologist
The staff at Gulf Coast Surgical Center is happy to assist with any questions you may have.
GULF COAST SURGICAL CENTER
402 DUNN STREET, HOUMA LA 70360
(985) 872-1661